Women's Underwear
Comfortable women's underwear that elevates your everyday. Mix & match with your favorite bras.
Size
Style
Color
Fabric
Collection
THE BEST UNDERWEAR AND PANTIES FOR WOMEN: COMFORT, STYLE, AND FIT GUARANTEED
Comfortable underwear that doesn't ride up or give you a wedgie—because who needs that?—is here. ThirdLove started with the most comfortable bras that make your boobs look great, so we had to create undies to match in every way. We're obsessed with fit, coverage, how you look in our undies, and ultimately, how they wear through the day. This collection of women's underwear in cotton, lace, seamless, no-show, and more offers a variety of silhouettes that you'll feel good in and love for every season. Seriously, you'll never be bored with our undies in lively shades and neutrals for every occasion.
HOW TO MEASURE PANTY SIZE
Using a soft tape measure for undie sizing
When it comes to ladies underwear, finding your size is pretty similar to measuring for your bra size. Using a soft tape measure, you'll want to measure around the widest part of your hips to determine your measurement in inches.
Matching your measurements to undie size chart
You'll then want to refer to the size chart to find your corresponding size. If you notice that you're in between sizes, we recommend sizing up your undies. Better to size up & be comfy!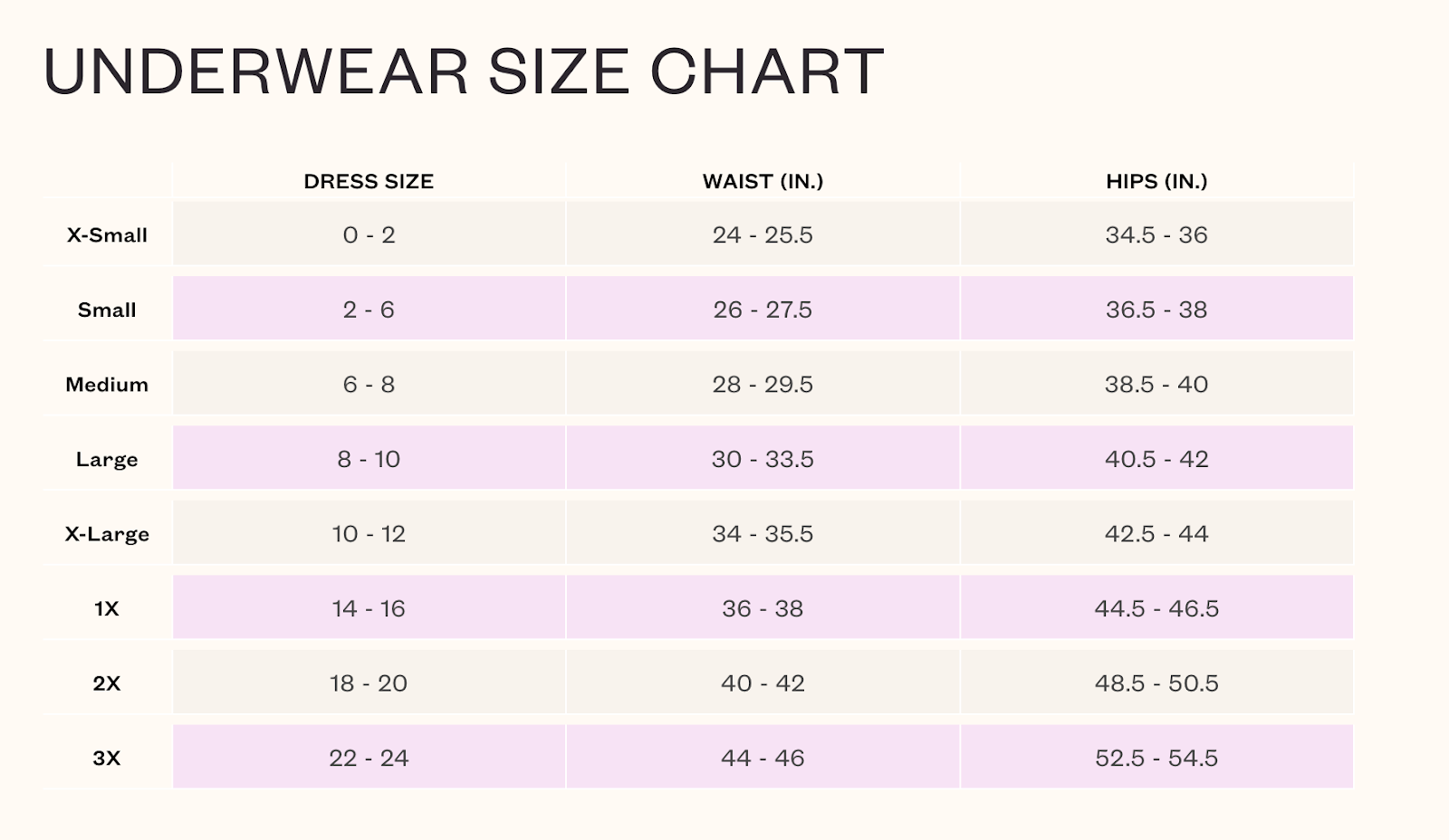 We understand the difference a great pair of underwear can make. Just like your favorite bra, a favorite pair of undies can not only boost your comfort level during the day, but also your overall confidence. That's why we have a wide range of sizes, styles, and shades – so everyone can get the first layer essentials they deserve.
TYPES OF LADIES UNDERWEAR
We're glad you asked. First, we encourage you to try every style based on your outfit, the weather, your mood, and comfort level. These panties are the perfect staples for your top drawer. The colors, stitching, and detailing make these super fun to mix and match as well. Whether you're looking for black undies, white undies, or any other color of the rainbow, you can be sure that we offer it. In fact we've made it easy for you to stock up on undies and save with our underwear bundles. Explore our matching bra and panty sets (we offer lace bra and underwear sets as well) for those days you want to feel extra put together. To help you find which silhouettes are perfect for you, we'll break down each of our core styles. Plus, we now offer inclusive sizing from XS-3X.
This is our mid-rise silhouette that gives you moderate coverage. So if you like your undies to start just below your hip, this is a great look. These come in cotton, lace, seamless, no show, mesh, and a knitted fabric.
This is our low-rise silhouette with moderate to cheeky coverage. Cheeky means the style accentuates your bottom. So if you love yours this is a great pick for you.
You'll get minimal coverage on your buns, but the overall look is seamless with no panty lines at all. These come in so many gorgeous colors and styles with lace, cotton, Pima Cotton, no show, shapewear, mesh, and sculptwear.
These babies are high-waisted or mid-waisted and offer a bit more coverage around your midsection as well as the back. Full coverage and available in a variety of fabrics including lace, seamless, sculpting fabric, and more.
Think comfortable women's underwear meets loungewear. These go slightly lower on the leg than your average undies. Available in long and short styles, with cotton, sculpt, and seamless.
Exactly what it sounds like, this collection of undies is made to sculpt and contour your (already gorgeous) shape. Whether you're looking for a natural smoothing under your clothes or just like a little more support, try our shapewear in a variety of styles and colors.
Just in case you're someone who loves an undie update each season, we offer plenty of brand new silhouettes and coverage levels all year long. So pick your favorites, feel free to mix & match for a top drawer filled with breathable, wedgie-proof panties you'll feel good in and love to wear. Explore all our bras and underwear to find the perfect match for you!
WHICH UNDERWEAR STYLES & COVERAGE ARE BEST FOR ME?
The best womens underwear should always be a comfy style solution, not an outfit dilemma. There are a plethora of types of womens underwear, and each one deserves a spot in your wardrobe. Whether you want to stay comfy at home or out on the town, here are the styles that you should have in your undie arsenal.
PANTY LINES BE GONE!
For outfits that are more form-fitting & you're not wanting to show your panty lines, thongs & no-show undies will be your best friend. If you're looking for the least amount of coverage, thongs are the way to go; however, many no-show undies come in both bikini & hipster styles if you're looking for more bum coverage.
HELLO, MOTHER NATURE...
For the days of heating pads & PMS, boyshorts are a common, comfortable underwear for women. Of course, you can wear this type of style any day, but we definitely tend to give this option a little more appreciation at a particular time of the month.
CUTE & CASUAL
When you want something a little more casual, (& maybe still a little flirty) bikini and cheeky panties for women are a great option. The Bikini silhouette is a super popular option for those wanting moderate coverage, & is available in a bunch of different fabrics – cotton, lace, seamless, no show, mesh, etc. Cheeky, like the name implies, shows off the bum a little bit more. Commonly seen with a lacy backside, this style is more coverage than a thong but definitely still a flirty option.
Be sure to shop all of our available styles and shades to make sure you never go without a great pair of underwear – because your booty deserves the best.